October 19, 2006

New layout! Thanks to Mick! It turned out to be really cute!

New Photo of the Month! Thanks to Nora for sending the photo!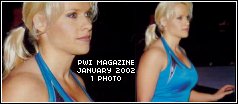 We added a scan of Nora in a Pro Wrestling Illustrated Magazine from January 2002. Click the banner above to see the wonderful scan! To read the article that went with the scan, click here.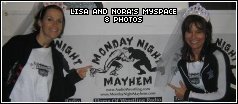 We also added photos from Lisa and Nora's myspace. If you haven't seen the photos yet, click the banner above!

Feel free to leave your comments about the updates, we love hearing from the visitors.

- Megan & Dani

{back}